British Airways and SUN-AIR celebrate 20 years of partnership
In 1996 SUN-AIR entered into a franchise partnership with British Airways that has developed into a network of routes between three airports in Jutland and 11 cities in Norway, Sweden, Germany and Great Britain.
SUN-AIR became the first airline outside of Great Britain to join forces with British Airways in an agreement signed 6 May 1996. At that time SUN-AIR was a large operator of domestic and Scandinavian routes with up to 246 weekly departures. The routes were from Skive, Thisted, Sindal, Aarhus and Odense to Copenhagen –  as well as routes connecting Jutland and Copenhagen to the rest of Scandinavia i.e. Gothenburg, Oslo and Stockholm Bromma.
The story behind the franchise cooperation derives from the regional British Airways Managers in Denmark and Norway being so impressed with  SUN-AIR's operation and high service level that they initiated contact between British Airways headquarters and SUN-AIR. Franchise discussions took place in total secrecy in the Danish town of Ebeltoft. The agreement was signed in London and was launched into the air in august with an official announcement and initiation ceremony taking place in Copenhagen Airport,  taking both the press and local competitors by complete surprise. The ceremony at the airport was marked by two SUN-AIR planes in their new British Airways Express livery and the legendary Concorde  that was flown in for the occasion. The event had huge media attention with live reports on Danish national television (DR and TV2) and for invited guests a large celebration party took place in Copenhagen later the same evening.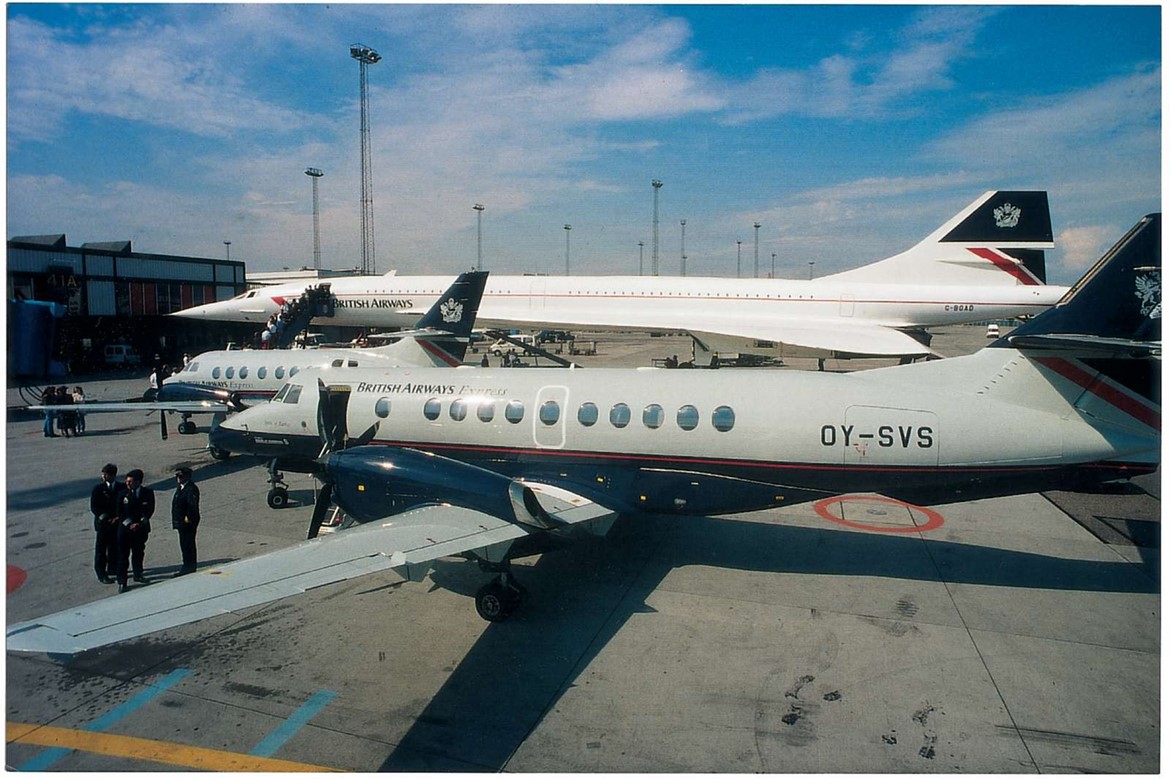 "We are so proud that we succeeded in allying with British Airways 20 years ago. I clearly remember what an honor it felt to be the first company outside the UK that signed such a deal. We had massive expectations for the new partnership and they have all been fulfilled. We have learned a lot over the years, with British Airways high safety standards in particular taking us to a completely new level", says SUN-AIR's founder Niels Sundberg.
"I've had the pleasure of representing British Airways in our successful cooperation with SUN-AIR for quite a few years now, and I'd like to applaud them for firmly establishing the British Airways brand in Western Denmark, as well as on the routes and destinations served by them. With their market knowledge and expertise, plus the respect they've earned from customers for outstanding service they were instrumental in laying the foundation of our newest route from Scandinavia – the 11 weekly Billund to Heathrow departures that launched in May this year. We couldn't have done it without them.
Congratulations SUN-AIR this has been a fantastic partnership, and long may it continue" says Regional Commercial Manager Northern Europe Peter Rasmussen.